These taste like warm banana bread right out of the oven! They are super moist and the spices really give it a good flavor. The banana and the walnuts add great nutrients, vitamins, and healthy fats. Enjoy!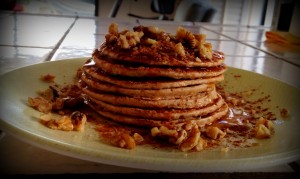 Ingredients: (can be doubled/tripled, etc)
1/3 cup dry oats
1/3 cup nonfat cottage cheese
1/3 cup egg whites
1/2 of a small-med. banana
1 tsp cinnamon
1/2 tsp nutmeg
1/2 tsp vanilla extract
2 tbsp walnuts, chopped fine
OPTIONAL: 1 tsp of rum extract ( This made it taste like bananas foster MMM!)
Combine all egg whites, cottage cheese, and banana, and spices and blend thoroughly ( I used my magic bullet). Stir in your oats and blend again until smooth. You can stir in some/all of the walnuts now, or wait and top your pancakes when they are done. Cook the batter on the griddle until bubbly…flip until its brown on both sides.
I topped mine with Walden's Farms Pancake Syrup and the chopped walnuts. Delicious!