Dessert for breakfast…oh yes please!
These can also be…wait for it…Banana PEANUT BUTTER Chocolate Chip Pancakes if you really wanted to go all out! MMMMMM…
Ingredients: (can be doubled/tripled, etc)
1/3 cup dry oats
1/3 cup nonfat cottage cheese
1/3 cup egg whites
1/2 of a small-med. banana
1-2 tbsp. chocolate chips
To make it Banana PB Choco. Chip, add:
1 tbsp of PB2/Peanut Flour (this is ideal)  OR
1 tbsp of Peanut butter
AND/OR Nestle Peanut butter/Chocolate chips blend (amazing!)
Combine all egg whites, cottage cheese, and banana and blend thoroughly ( I used my magic bullet). Stir in your oats (if you're using PB or PB2, add this in now) and blend again until smooth. Cook on the griddle until bubbly…flip until its brown on both sides.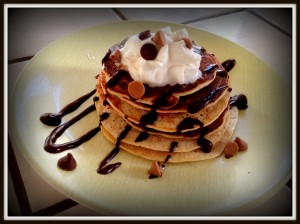 I topped mine with a small drizzle of light chocolate syrup and whipped cream ( I was going all out 🙂 ) I used the Chocolate/PB baking chips in mine but no PB2, so the hint of PB mixed with the banana was to die for! It would be perfect for a relaxing weekend morning, and would be a hit with kids too!