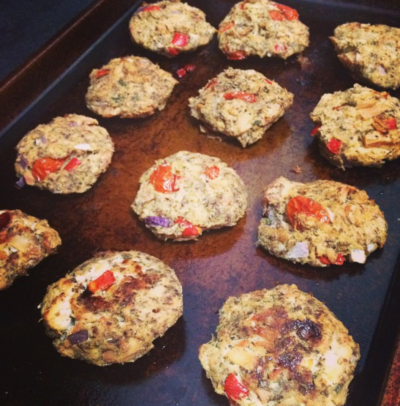 Looking for a new way to eat your canned tuna? Getting bored of your typical tuna salad or sandwich? Then try this easy, simple, healthy and delicious recipe!
RECIPE: (makes approx 6 patties/2 servings)
Ingredients:
2 small cans tuna or salmon packed in water, drained
2 tbsp oat flour (ground up oatmeal) or ground flaxseed
½ cup finely grated zucchini (excess water squeezed out)
1 egg white
½ cup chopped veggies: bell pepper, onion, tomato etc.
Spices: garlic/onion powder, Mrs. Dash, sea salt and pepper, lemon pepper etc.
Directions:
Combine all ingredients in a large bowl. Form into patties into approximately the size of your palm. If the mixture is too dry, add an egg white. If it is too wet, add an extra Tbsp of oat flour.
Place on baking sheet and bake at 375F for approx. 20-25 minutes. Flip after 15 minutes. Check at 20 minutes and continue baking until your liking. I prefer them to be a little crispy and "well done" 🙂
Serve with lemon, mustards, avocado or yogurt sauce.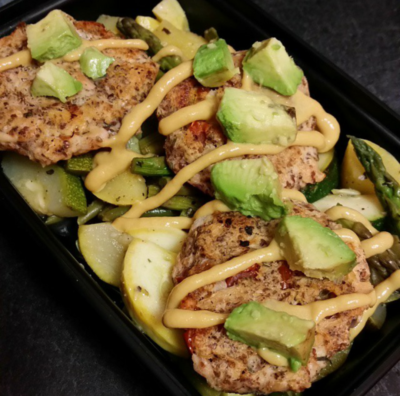 Optional Yogurt Sauce: Mix 2 Tbsp plain greek yogurt with ½ Tbsp Dijon mustard, lemon pepper seasoning, dried dill, & lemon juice.
Nutrition Information:
1 serving (using oat flour) & not including yogurt sauce:
190 calories/30g Protein/3g Fat /11g Carbs (2g fiber & 3g sugar)