This is a very delicious and nutritious breakfast option! Make this as part of your meal prep for breakfasts during the week. It is a great alternative to those busy mornings when you want a "decadent" breakfast but lacking the time. And a French Toast recipe that has a whole serving of protein in it? Sign me up!
This makes two average servings, or one if you are REALLY hungry 😉 This could also be a healthy brunch dish!
RECIPE:
Makes 2 servings
Ingredients:
4 slices whole wheat bread*
2 whole eggs
4 egg whites
1/2 cup unsweetened nut milk
1 scoop (30g) protein powder
1 tsp vanilla extract
1/8 cup Baking stevia (optional/to taste)
Optional ingredients:
1/4 cup canned pumpkin, applesauce, or banana
1/4 cup berries or chopped fruit
1/8 cup crushed walnuts or pecans
Spices such as: cinnamon, nutmeg, ginger, other extracts etc.
*The type of bread you use is ultimately up to you. I have used a lower calorie brand (40 cals/slice) but a sprouted "heartier" kind like Alvarado Bakery/Angelic Bakehouse/Ezekiel bread is also an option! When selecting a brand, be sure to look for the words "whole wheat" versus "enriched", the lowest amount of sugar, and no high fructose corn syrup or additives.*
Pre-heat oven to 375 F.
Line your loaf pan with foil and non-stick spray or generously spray the pan itself.
Combine all wet ingredients (everything but bread) and mix very well. I suggest using a hand mixer, nutribullet or blender. Be careful to not over-blend; you don't want the mixture too runny.
Pour mixture into your loaf pan. Take your bread and tear into pieces and throw em in the pan! Make sure they are evenly spread out and mostly covered by the egg mixture.
Add your additional toppings (fruit/nuts) now if desired.
Bake at 375F for approximately 30 minutes. The exact time will be up to you and your preference; a toothpick should come out clean from the center and it should be nice and brown. To me it is done when it's still slightly moist in the middle with a browned slightly crispy outside…at least in my opinion 😉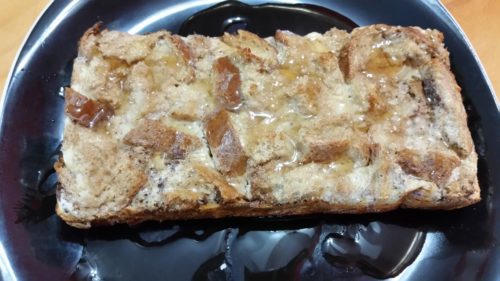 Cut in half to make two (large) servings! 🙂
Top with light/sugar free syrup, berries, whipped cream, etc!