This lovely recipe was actually created by mom…fellow clean cook/baker and the most wonderful person you will ever meet 🙂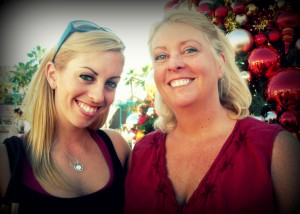 She was experimenting in the kitchen and came up with this fabulous recipe! Healthy, satisfying, and feels like a treat. What more can you ask for? Thanks Mom 🙂
Makes 4-6 servings
Basic Recipe (can be modified!)
Ingredients:
4 slices whole wheat bread (preferably Ezekiel)
5 egg whites
1 whole egg
1/2 cup milk of choice* (unsweetened almond, nonfat, or even fat free evaporated milk is good!)
Optional:
-light eggnog
-canned pumpkin puree
-mixed berries, fruit, etc.
-nonfat greek yogurt
-Stevia, spices like cinnamon, extracts, etc.
*You may add more or less milk depending on your preference. We usually start with a 1/2 cup and mix with the eggs and whatever other optional ingredient. If you increase the wet ingredients, your casserole will be moister (like bread pudding)…it is totally up to you and your taste!
Take your bread slices and break them apart into bite size pieces. Layer into an oiled baking dish or loaf pan (you can use any size…we have used a 11 x 7 Pyrex, and also a silicone loaf pan). Mix together your wet ingredients and spices (eggs, milk, etc) and pour over the bread pieces.
*Optional: Cover and leave overnight and bake in the AM so the wet ingredients soak into the bread.
Bake the casserole at 375F for about 40-45 minutes or until the bread is toasted on the outside. Feel free to bake a little less or more depending on how you like it…. I personally like the outside to be toasted but the middle to still be moist.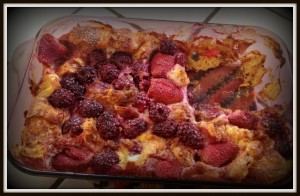 Top with sugar free syrup, whipped cream, fresh berries, or your favorite healthy condiment!
Here are some recommendations on different substitutions! Take the recipe and add:
Pumpkin:
1/2 to 3/4 cup canned pumpkin
1 tsp each of cinnamon and vanilla extract
1/2 tsp nutmeg
Top with sugar free syrup or pumpkin yogurt sauce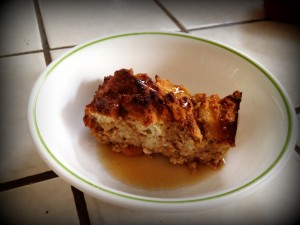 Berry:
1 cup mixed berries (frozen or fresh)
Top with more fresh berries and/or whipped cream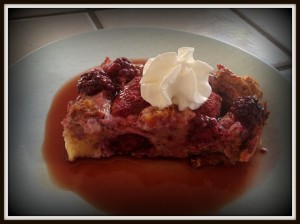 Egg Nog:
1/4 cup light egg nog (you might need less milk)
1 tsp cinnamon
1/2 tsp nutmeg
1/2 tsp rum extract or vanilla extract
These are just some that we have made…looking forward to trying new "flavors"!