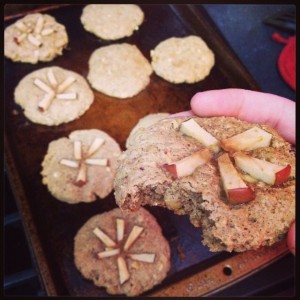 Healthy cookies…YAY!
 These cookies have a great soft chewy texture with just enough crisp outside. They were made to be an on-the-go breakfast snack, but they would be good for an anytime treat! 😉 Made with all natural ingredients, packed with protein, and no added sugar, it's a perfect no guilt cookie!
Ingredients:
1/2 cup oat flour
1/2 cup almond flour (or 1/3 cup raw almonds)
1/4 cup stevia
2 scoops vanilla whey/casein blend protein powder
1/2 tsp baking soda
pinch of salt
1 tsp cinnamon
1/4 tsp nutmeg
1 egg
1/4 cup unsweetened applesauce
1/4 cup nut butter (I used all natural chunky PB)
1 Tbsp unsweetened almond milk (or milk of choice)
1/2 tsp vanilla extract
1/2 tsp maple extract (or more vanilla)
Optional:
Dried fruit like raisins or cranberries
Crushed or chopped walnuts, pecans, etc
Ground ginger
Directions:
Pre-heat the oven to 375F.
In a large bowl, combine all dry ingredients (the first 8 listed). Note: you may make your own oat and almond flour! Place 1/2 cup dry oats and 1/3 cup raw almonds (it will make a 1/2 cup) into a blender or food processor. Blend until it becomes a smooth flour!
In a smaller separate bowl, combine all the wet ingredients EXCEPT the milk and mix well. Slowly add the wet ingredients to the large bowl with the dry mixture. Stir until all ingredients are well mixed.
At this point, after stirring for a bit, assess if you need the Tbsp of milk. If all ingredients turned into a sticky blob of cookie dough, then you are all set 🙂 However, if the dough is still too dry and not all combining (like for me) add the Tbsp of milk and it should be just enough 😉
Prepare a large baking sheet with non stick spray or parchment paper. Use a large spoon (or just your hands!) and form the dough into small balls, flattening them down lightly before placing on the sheet. You may make them whatever you size you would like, I preferred to make large cookies 🙂 Tip: Keep your hands slightly damp while rolling out the cookies will help keep the dough from sticking to your hands.
Bake your cookies at 375F for approximately 10 minutes. If you make your cookies smaller, you might need to reduce the baking time by a few minutes.
The cookies will not rise or spread much at all, however the edges will be browned and all done 🙂
Let them cool for a few minutes before transferring off the baking sheet, as they will still be fairly soft.
Store them in the fridge for up to a week, and enjoy your healthy treat!
Nutrition Info: (Makes 10 large cookies)
1 cookie: 122 calories  7g carbs  8g protein  6.5g fat  1g sugar  1.5g fiber