One word: Amazing! I took my basic Protein Pancake recipe and added a few extra ingredients!
Ingredients: (can be doubled/tripled, etc)
1/3 cup dry oats
1/3 cup nonfat cottage cheese
1/3 cup egg whites
2 Tbsp unsweetened applesauce
1 tsp cinnamon
1/2 tsp of nutmeg
1/4 tsp each of allspice and ground cloves
1 tsp vanilla extract
Optional:
1/2 tsp maple extract
1/4 cup chopped apples for topping (I didn't have any on hand…meh)
Blend wet ingredients first, then add in oats and blend thoroughly (I used my magic bullet). Cook on the griddle like normal pancakes…mine made 8 smallish pancakes!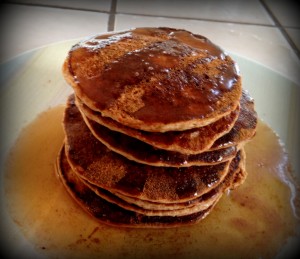 I topped mine with the Walden's Farms Pancake syrup, more cinnamon of course, and at the last minute I added whipped cream 🙂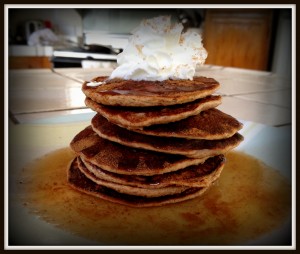 Nutrition Info:
For the whole recipe: 225 calories    25g carbs    25g protein   2.5g fat