Tilapia is a staple protein source in a fitness competitor's diet, and after having so much of it during "contest prep", I would do anything to NOT eat it! I wanted to get back on good terms with my frenemy food, so I decided to get creative with some recent grocery store purchases and "transform" tilapia 🙂
The blend between the coconut and almond flavors is great. It is slightly crispy without having an overly "fishy" taste. Coconut and almond are both great healthy fat sources as well!
Ingredients:
4-4oz tilapia fillets (I buy mine pre-portioned, frozen in bulk)
1/4 cup unsweetened coconut flakes*
1/4 cup sliced almonds, slightly crushed**
1 Tbsp coconut flour*
Salt and Pepper, to taste (I personally didn't add any)
1 egg white (you might need two)
* I bought my unsweetened coconut and coconut flour both at Sprouts. I found the coconut flour in the bulk food aisle in the bins, and they also sell it pre-packaged. If you don't find the coconut flour, extra almonds/coconut flakes should work fine.
**I put my sliced almonds in a small Ziploc and used an icecream scoop to crush them down into smaller pieces.
Take the almonds, coconut flakes, and coconut flour and spices and mix together into a shallow dish. Crack your egg white into another shallow dish.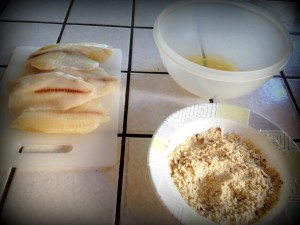 Take one tilapia fillet and dip completely into the egg white. Then immediately dip the fillet into the dry mixture, covering the whole piece in the "flour" mix. Repeat for the other fillets, and place into a sprayed baking dish OR cookie sheet.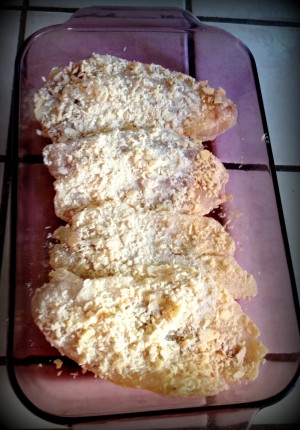 Bake covered in your baking dish or on a cookie sheet at 425F for about 25 minutes. The fish should be nice and browned and slightly crispy, and the fish should be flaky inside.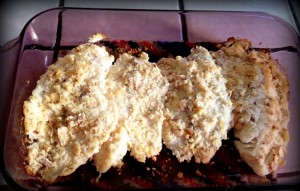 You can serve the fish with mango salsa, sugar-free/low sugar orange marmalade, or…??
It was a success! I was happy to eat my tilapia this time!! 🙂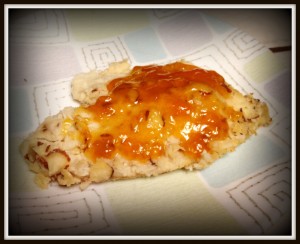 Nutrition Facts:
4 servings
1 serving: 175 calories   3.5g carbs    6.5g fat   27g protein