5 Ingredient Bread!!
Gluten free, grain free, dairy free, low carb, Keto & Paleo approved!
Very easy to make & very delicious!
Ingredients:
🔸1 cup organic ground flaxseed
🔸1/2 cup almond flour
🔸2 tsp baking powder + few dashes of pink Himalayan Sea Salt
🔸4 large free range/organic eggs
🔸1/3 to 1/2 cup water
Directions:
Pre heat oven to 400F.
Mix all dry ingredients in large bowl. In a small bowl, add eggs & water & mix well.
Optional: Separate the eggs yolks & whites. Beat the egg whites until slightly fluffy (this will help the bread rise a bit. Not necessary but you can try doing it either way!)
Mix together all ingredients; it will be a pretty thick batter.
Transfer to a well sprayed or parchment paper lined dish: I use a loaf pan but you can use something different.
Bake at 400F for approx. 30 minutes. The sides will pull away slightly & a toothpick will pull clean from center.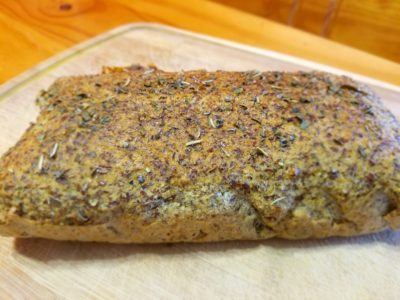 Notes:
I like cutting it in half and then slicing it lengthwise, to mimic a standard piece of bread. This way it's a pretty good size; it's similar to most sprouted brands (Angelic Bakehouse or Alvarado Bakery).
Ways to Enjoy:
Topped with avocado
Toasted with cream cheese or grass-fed butter
Cut into thin slices, top with cheese and broil for "garlic bread"
Open faced sandwich
Smear with nut butter and/or fruit
Optional add-ins: Different herbs & spices like Italian seasoning, garlic, sesame seeds etc.
Nutrition Facts:
Makes approx. 10 30-gram slices
1 slice: 110 calories/7g fat, 3.5g carb (2g fiber; 1.5g net carbs) 5g protein