A great appetizer dish that is creamy, satisfying, and a sneaky way to get extra veggies into your day. It can be served warm or cold and leftovers taste great mixed in with your eggs in the morning 🙂
Ingredients:
3 cups fresh spinach
1 cup frozen chopped spinach (I ran out of fresh, oops! This works just as well for the whole recipe though!)
1 cup diced onion (I used one small yellow)
1 cup canned, drained, chopped artichoke hearts
1 cup nonfat plain Greek yogurt
1/2 cup nonfat cottage cheese
1 Tbsp canned pesto
1 Tbsp garlic powder
1/4 cup parmesan cheese
Onion powder, pepper, salt, Mrs. Dash Garlic Herb-to taste
Take the spinach and onion and saute over medium heat. Cook until all the fresh spinach leaves are cooked and onion is browned. Then, I took all the remaining ingredients and added it to the pan. I cooked it on medium low until the Greek yogurt and cottage cheese became smooth and it formed a nice dip mixture.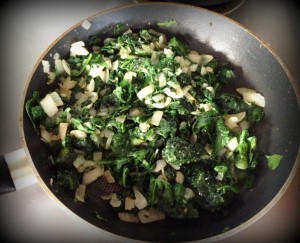 Since I was serving the dish cold, I poured it directly into my dish and set in the fridge to cool until I was ready to serve it. However, you could serve immediately off the stove OR transfer to a baking dish and pop it in the oven for 10-15 minutes. Ad some extra parmesan or shredded cheese on top to create a nice "topping" and enjoy!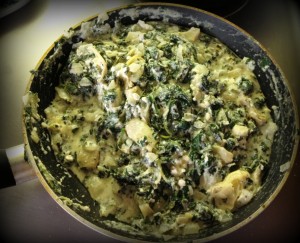 Sorry, I didn't snap a pic of it in the serving dish!
I like to serve this with celery sticks, grape tomatoes, baby carrots, sliced red bell peppers. If I choose a cracker, I go with whole wheat pita chips or whole wheat Triscuits or Whole Wheat Thins 🙂