I loooove this recipe. Marzipan is technically a paste made from almonds, sugar, and sometimes honey. The "marzipan" found in these muffins, mixed with the raspberry, is amazing! The almond gives it wonderful flavor without being too overpowering. I am looking forward to eating these…I would even consider them dessert!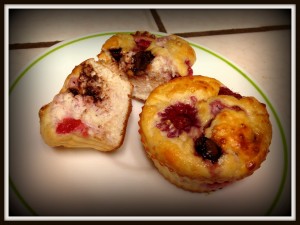 Ingredients:
2/3 cup oat flour OR:
1/3 cup oat flour and 1/3 cup almond meal (Optional)
3 scoops vanilla whey protein powder
1/4 cup Stevia
1/2 tsp baking powder
dash of salt
1 tsp vanilla extract
1 & 1/2 tsp of almond extract
4 egg whites
1 cup nonfat greek yogurt
1/2 cup of unsweetened almond milk (water is fine too)
Fresh raspberries (I honestly didn't measure them out!)
Optional: Chocolate chips/sliced almonds
Combine all ingredients together except raspberries, chocolate chips, and sliced almonds. Mix thoroughly until batter is smooth. It should be fairly light in consistency, not too doughy. Pour batter into silicone muffin liners or very well sprayed foil muffin liners. Drop in raspberries (I chose 3 for each muffin) and add chocolate chips or almonds if you wish.
Bake at 350F for 25 minutes, or until muffins are baked through and the tops are slightly brown.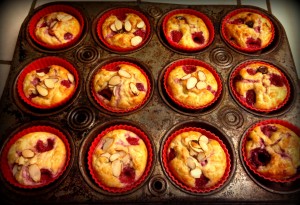 My batch always make 14-15 muffins.
You could technically make these 3 different ways:
Raspberry Marzipan (add sliced almonds on top)
Raspberry Marzipan with chocolate chips
Raspberry Chocolate Chip (use all oats, no almond flour, and omit the almond extract and sliced almonds)
I hope you enjoy these as much as I do! 🙂