So you've gone to the store with your grocery list and now your kitchen is stocked with all of your clean foods. A common question is…but now what? How do I take all of these foods and make them into clean balanced meals and snacks?
First, let's talk a little about the basic food groups:
Protein-Carbohydrates-Fats-Dairy-Vegetables-Fruits
These are the recommendations from the USDA's MyPlate (the new version of the Food Pyramid) Click on the picture for the MyPlate website and more info.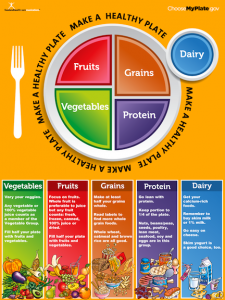 This is a very general guideline and of course should be tailored to your needs and goals. The Grocery List (under my Health Tips tab) is broken down by food group as well, and provides more specific items in each category that are clean and supports a healthy diet.
A successful healthy meal is when your macro-nutrients (Protein-Carbohydrates-Fats) are in balance and it is the right portion size based on your individual needs.
It is recommended that individuals eat 5-6 smaller meals throughout the day instead of 3 large meals. Another way to break it down would be to eat 3 moderately sized meals and 2-3 snacks. This really depends on you, your goals, schedule, and preferences.
Meal Planning "Rules":
Have protein in every meal or snack. Be able to point it out in your meals. This will help keep you energized and satisfied, and will also help support your exercise needs. It is acceptable to eat protein by itself.
"Choose" your protein source first when making or packing your meals. this way it ensures you have that protein in every meal.  Carbs and fats are very accessible and let's face it, we easily choose carb-heavy meals first!
Avoid eating a carbohydrate-only meal or snack. Without a balance of a fat or protein, carbs are absorbed into your system very rapidly, causing a spike in blood sugar levels and insulin. You get a burst of energy…but then soon after a crash in levels. Try to pair it with a lean protein and/or fat.
Eat healthy fats in every other meal or snack. Depending on your needs, about 25-35% of your daily calories should come from fat. Since Fats are very caloricly dense, consuming them in every other meal will provide the correct amount of your daily recommendation.
Eat lots of COLOR! Aim to have vegetables in almost every meal (it is possible I swear!) and fruits in every other meal. Think of vegetables as free foods! Eat as many as possible!
Always eat breakfast! Even if it is a small "snack" like a hardboiled egg or a protein shake or protein muffin. Eating within an hour of rising will increase your metabolism and give you energy to fuel your body throughout the day. The faster your metabolism, the more calories you will burn-which is what we want!
Eat your meals and snacks when you are most active. Food is fuel! Fuel your body when it needs it the most. Eating before and after your workout and during the busiest time of your day (depends on your schedule of course) ensures your body will use those meals for energy instead of storing it for later use…aka as fat stores!
Examples:
Breakfast:
Egg white omelette with veggies and sliced avocado (Protein + Veggies + Fat) with whole wheat toast (Carbohydrate) 
Protein Pancakes-oats, cottage cheese, and egg whites-(protein and carbs) topped with your choice of fruit (carb), peanut butter (fat), etc.
Shake or smoothie made with Protein Powder (Protein), almond milk or water, fresh fruit and veggies, greek yogurt (protein and carbs), etc.
Lunch:
Zucchini Turkey Burgers (Protein) with avocado (Fat), salsa, etc. served with side salad or green veggies
Cold Chicken Salad: Diced chicken (protein) mixed with greek yogurt          (protein and carbs), fresh or dried fruit, chopped nuts (Fat)
Chicken or Turkey (protein) whole wheat wraps (carb)
Dinner:
Baked or Grilled Chicken or Fish (protein) with a side of veggies. The Coconut Almond Tilapia recipe is great because it provides protein and healthy fats together.
Ground Turkey (protein) and Bean (carb) Chili
Chicken and/or Shrimp (protein) Stir fry with mixed veggies and brown rice (carb)
Snacks/Mini Meals: So many possibilities!
Ÿ  Protein muffins or Protein Bars (P & C)
  Cottage cheese with fruit (P & C)
  Greek yogurt topped with fruit and/or chopped nuts  (P, C & F)
Ÿ  String cheese with a small piece of fruit (F, P, & C)
  Raw almonds with dried pineapple/raisins (F, P, & C)
Ÿ  Meal replacement protein bar (preferably homemade) (P & C)
Ÿ  Small Banana or apple with peanut butter (C & F)
  Hardboiled egg(s) with raw almonds (P & F)
Ÿ  Carrots/baby tomatoes with hummus (F & veggies)
  Protein shake made with almond milk or water (P)

I am available for private appointments to discuss personalized meal planning that is right for you and your fitness/health goals. Please contact me if you have any questions!