Finesse Fitness Private Classes and Services
Clean Eating and Healthy Living Kitchen Makeovers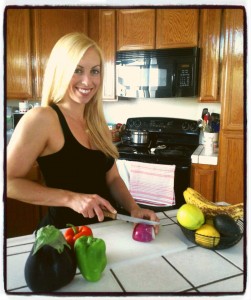 Are you looking to make changes in your nutrition and lifestyle but not sure where to start?
Do you feel overwhelmed by all the "health food" products and confused about what is right for you and your family?
Are you looking for nutritious and tasty meal ideas but lacking the knowledge or motivation on meal planning?
Have you been eating healthy, but have hit a plateau and not seeing or feeling positive change?
I am here to help! Let's work together and create changes – starting in your kitchen – that will lead to your healthier and happier life!
My comprehensive, private and in-home health classes will provide you with the knowledge, motivation, and accountability to help you reach your goals and create healthy lifestyle habits.
Finesse "Clean Sweep" Kitchen Makeover:             $125
A two hour consultation that includes an Assessment and "Clean Sweep" of your current kitchen including your refrigerator, freezer, and pantry items
An in-depth evaluation of you (and your family's) typical meals and food preferences
A detailed Shopping List based on you and your family's needs and goals, including dietary restrictions, allergies, etc.
Finesse "Shop and Prep" 101:                      $175
This three hour-long course starts with a trip to your local grocery store to learn about the importance of nutrition, understanding ingredients, choosing food "for fuel", reading food labels, what to avoid, value for your money, etc.
Fill your kitchen with all your healthy foods from  your personalized Shopping List
Learn Food Storage and Kitchen Organization techniques and the best tips for preparing and storing your meals
"Food Prep" 101: Prepare healthy and easy dishes and snacks with your newly-stocked kitchen and hands-on guidance and tips
Finesse "Personalized Meal Planning":                     $150  
A customized program including four weeks of meals, snacks, and supplementation personalized for you and your needs.
Easy to follow recipes,  with variety, balanced nutrition and the right portions and foods personalized for YOU.
Healthy meal ideas for the whole family, including on-the-go meals, kid-friendly options, quick snacks, etc.
Weekly follow up appointments via email or phone to discuss your progress and any concerns
Finesse Fit Living Total Makeover Package:            $400
Combine all three components (and save!) while revamping your lifestyle! This bundle of services will provide all of the education and guidance needed, including:
"Finesse Sweep" Kitchen Makeover
  Finesse "Shop and Prep" 101
  Finesse Customized Meal Plans
Contact me today to schedule your health makeover! Please let me know if you have any questions. I look forward to working with and helping you! 🙂