Silicone Non-stick Bakeware: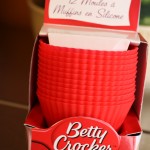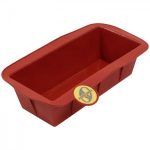 Seriously, these are the best lifesaver for all my baking recipes. I had some epic FAILS in the beginning from using regular loaf pans and muffin tins even using baking spray and/or foil, because most of my recipes are not made with "traditional" ingredients. However, my treats stay in one piece when baking with these! I bought my muffin liners at Bed Bath and Beyond., but you can find them also at Target, Walmart and online. The loaf pans can be ordered online at Overstock.com, Amazon.com, or possibly in stores.
Stevia Baking Sweetener: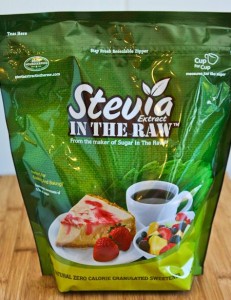 Stevia is an zero-calorie, all natural sweetener that is derived from the stevia plant that is found in South America. An extract called Rebiana is isolated and then purified, which provides the sweet flavor. 
 As most of you know, I have a VERY large sweet tooth, and I love to bake but have my treats healthy and still satisfying. That means staying FAR away from products with white sugar. Using Stevia in place of sugar in recipes cuts out hundreds of calories, lowers the glycemic index of the food, and overall supports a clean diet. You can find it in a bulk baking size at most major grocery stores, Sprouts, etc.
I personally do not taste the "aftertaste" with Stevia, so it does not bother me. Other all natural sweeteners are Truvia and PureVia, which are made from the stevia plant as well, but also contains erythritol, another all-natural sweetener that is found in some fruits as well.
Here are some links for more information:
Blender Bottles: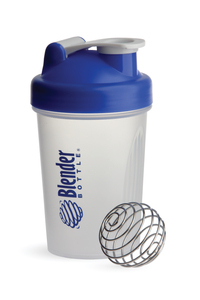 A super convenient way to make your protein shakes! The mini metal ball instantly mixes your drink, so no chunky protein powder leftovers. I usually keep an extra empty bottle in my car or gym bag with a ziploc of protein powder inside for an emergency snack. They are also great for traveling. I have seen them at Sprouts, 24hour Fitness, nutrition supplement stores like the Vitamin Shoppe, etc.
Protein Powder:
I use whey protein powder for my meal replacement shakes, brownie bowls, and most all of baking recipes. It is a fast and easy meal or snack for when you're on the go or at work.
My favorites brands of protein powder would have to be: PEScience, Dymatize and Optimum Nutrition. All of these not only taste great, but they have the lowest amount of carbs, fat, little to no sugar, and no added flavors or sweeteners. You can find all of these online as well as at most nutrition/supplement stores (Vitamin Shoppe, GNC etc). I usually keep vanilla and chocolate on hand. There are TONS of other brands out there that are also good, but those are just my favorite!
For my baked goods, I always use a whey-casein blend (sometimes also labeled as a "controlled release protein" versus a straight whey concentrate. The blend of proteins  gives it a thicker consistency, making the product fluffier, more moist/dense and overall a better texture and flavor. Using a straight whey versus a blend will create a lighter more dry final product, and you are more likely to "taste" the protein. I highly recommend using a blend!
I use: Beast Protein, Dymatize Elite XT Extended Release Protein, and all the PEScience proteins are great.
PB2/Peanut Flour:
If you are a big peanut butter fan like I am, you will love this stuff! It is all natural powdered peanut butter; the manufacturers take peanuts and remove all the oil, so you are left with just peanut "flour". You won't believe the nutrition facts; for 2 tbsp (one serving) it is only 45 calories(!!!) Compared to 2 tbsp of peanut butter is 180 calories!
I love to add this to my baking recipes, on rice cakes, in my protein shakes, etc. You can also just mix it with water or almond milk (start small!) and make your own "peanut butter" to use as a dip or frosting. They also sell a chocolate version 🙂
You can find this at most grocery stores, Walmart, Target, and of course online.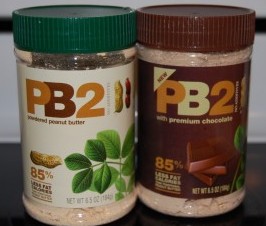 Mrs. Dash Salt-Free Seasonings:
These are a perfect way to add spice and flavor to your meals without adding salt! They have several varieties and when they are on sale, I make sure to pick up a few 🙂 Again, these are at most all grocery stores, Target and Walmart!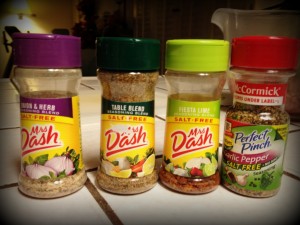 Exercise Sliders:
These are small pads that you can do tons of core & full body exercises with! They are great because they are small and easily portable and great for traveling. There are dozens of exercises to do with them! They are always in my  gym bag.
Exercise Gliders are made and manufactured by fitness companies; however, believe or not…you can actually use Furniture Movers! Yep, they work just the same! You can find them at Bed Bath and Beyond and online. Mine were less than $15 for two pairs!