This recipe is very similar to the Low Carb Pumpkin Bread, but with banana and maple instead! High in protein, healthy fats, healthy carbohydrates and nutrients from the banana, and overall moist deliciousness! Did I mention how SIMPLE it is as well ?!?
Ingredients:
2 scoops vanilla whey protein powder 

1/4 cup ground flaxseed
2 tbsp Stevia (could omit)
1/2 tsp baking powder
1/8 tsp salt
3/4 cup egg whites
1 cup mashed banana
1 tbsp cinnamon
1/2 tsp nutmeg
2 tbsp sugar free maple syrup
Optional:
1/2 tsp maple extract

1/3 cup crushed/chopped walnuts
Blend dry ingredients, and then mix in wet until it is a smooth batter. Pour into your well-sprayed or silicone loaf pan. Bake at 350F for about 30-35 minutes, or until the edges are brown and a toothpick comes out clean.
Enjoy with breakfast, coffee, or as a snack. It tastes great with a little sugar free maple syrup and greek yogurt on top! 🙂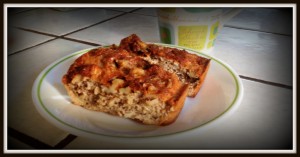 Nutrition information (for 10 slices):
55 calories per slice   5g carbs   6g protein   1g fat