These pancakes follow my standard Protein Pancake recipe but with a few tweaks…
you have Coconut deliciousness!
Ingredients: (sizes can be doubled, tripled, etc)
1/3 cup dry oats
1/3 cup nonfat cottage cheese
1/3 cup egg whites
1 tbsp coconut flour (bulk bins at Sprouts)
1 tbsp unsweetened coconut flakes for the topping (you can add more to the batter if you wish)
Optional: 1/2 tsp of coconut extract
Here's a pic of the coconut flakes I use: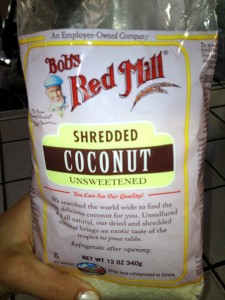 Blend wet ingredients first, then add oats, coconut flour and coconut extract. Cook on the griddle like normal pancakes. My batch made 7 pancakes…!!!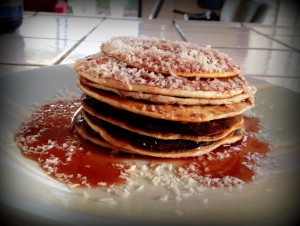 I topped my pancakes with the tbsp of coconut flakes and Walden's Farms Blueberry Syrup (also from Sprouts). If I had blueberries on hand I would have used those!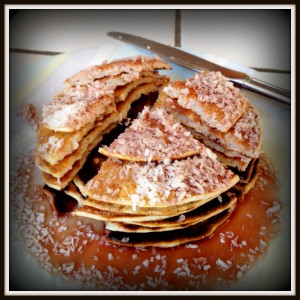 MMMMMM. So. Good.
Nutrition Info:
Whole Batch of Pancakes: This was one serving all for ME 🙂
285 calories    25g carbs    6g fat     27g protein