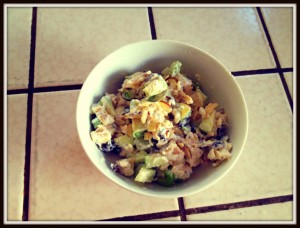 This is a great and easy salad-perfect to make in a large batch and have several servings! It is convenient to throw in your cooler and eat it on the go. Using nonfat plain greek yogurt instead of mayo significantly lowers the fat content while adding protein!
Ingredients: (makes 1 serving…feel free to double, triple, etc.)
4 oz grilled/baked chicken breast

1/4 cup chopped celery
1/4 chopped apple (about 1/3 of an apple)
2 tbsp raisins
2 tbsp sliced almonds
1/4 cup nonfat plain Greek yogurt
juice of 1/4 of a lemon
Substitutions/Optional:
Chopped walnuts instead of sliced almonds
Sliced grapes instead of raisins
Add all ingredients together and mix thoroughly with the yogurt until everything is evenly coated. Enjoy immediately or cover and store in the fridge for 2-3 days.