I love having these for a quick snack or when I need something to satisfy my sweet tooth. Most packaged protein bars are basically "healthier" candy bars; they are still processed and high in sugar and preservatives. Use those as a last resort and make these instead! These protein bars are high in protein, sugar free and made with all natural ingredients. They are super easy to make and quite tasty!
Ingredients:
2/3 cup oat flour (dry oats blended into a flour)
3 scoops protein powder (chocolate or vanilla would work)
1/3 cup Stevia (1/2 cup if you like it really sweet)
2-3 tbsp cocoa powder
1 tsp baking soda
1/4 tsp salt
1 cup nonfat plain greek yogurt
4 egg whites
1/3 cup milk of choice (I use unsweetened almond milk)
OPTIONAL: chocolate chips, sugar free chocolate syrup, PB2/peanut flour, peanut butter
Mix all dry ingredients separately first. Add wet ingredients and mix thoroughly. Stir in chocolate chips if desired. Pour into your well sprayed baking pan (I use a 11 x 7 Pyrex). You can pour chocolate syrup on top before baking.
Optional: To make them chocolate peanut butter (why not??) add:
-1/4 cup to 1/3 cup peanut butter (room temperature)
– (Recommended but not necessary) 2-3 tbsp Peanut Flour
Add to the batter or swirl the peanut butter on top before baking!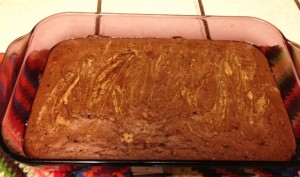 Bake at 350F for about 25-30 minutes or until a toothpick comes out clean. It makes 20-24 small bars. Feel free to eat about 2-4 bars as a snack 🙂