One of my new favorite recipes! It is super moist and rich with flavor. These can also be made into muffins! Feel free to substitute the fruit as well and use other type of berries ( maybe blueberry?)
Ingredients:
1/3 cup coconut flour (could sub oat flour but decrease milk a tad)
1/2 cup vanilla whey protein powder (could use chocolate?)
1/2 cup Stevia
1 tsp baking powder
4 egg whites
1 whole egg
1/2 cup milk of choice (I used almond milk but could use the cartoned coconut milk?)
1/3 cup nonfat plain greek yogurt
2-3 tsp coconut extract
1 tsp vanilla extract
chopped cherries (I used 1/2 cup frozen from Sprouts) or sub blueberries, raspberries, etc.
Optional: shredded unsweetened coconut for topping and/or batter
Combine all wet ingredients and mix thoroughly. Add in dry ingredients (except cherries) until all the batter is smooth. Stir in cherries (or drop into the batter once poured into your pan). Pour into your loaf pan OR muffin tins (should make a good dozen). If desired, sprinkle shredded coconut on top. This will be a thick dough! Feel free to add more almond milk if it is too sticky. It should be thicker than my normal loaf/muffin recipes (the coconut flour soaks a lot of the moisture).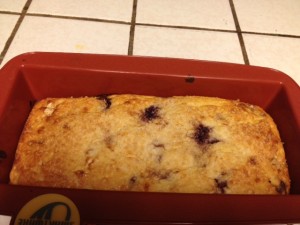 Bake your loaf pan at 375F for about 50-55 minutes or thoroughly baked and slightly brown on top (a deeper pan will take longer) Muffins should take approximately 30 minutes.