An easy yet delicious recipe that is filled with nutrients & healthy ingredients! It is a great side dish or main entrée. Adding chicken breast on top if desired is excellent as well! This recipe is also gluten free and vegan 🙂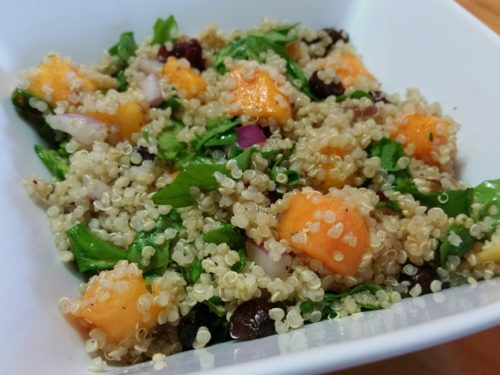 Fun Fact:

Did you know that quinoa is one of the grains that is a complete protein source? This means that it contains all of the essential amino acids (protein building blocks) that your body requires from food. Thus it makes a great plant-based (non-meat) source of protein!
Ingredients: (Makes 6 cups/12 servings)
1 cup dry quinoa
¼ cup dried no sugar added cranberries
1/3 cup diced red onion
1 ½ cups roasted & cubed butternut squash
¼ cup chopped walnuts
1 cup chopped fresh spinach
¼ cup light/balsamic dressing of choice (My top choice is Maplegrove Farms Fat Free Balsamic)
Salt/Pepper to taste
Directions:
Prep the squash: Cut in half & scoop out the seeds. Place up on baking sheet & roast at 375 for approximately 45 minutes until soft. Once cooled, peel off skin & cut into ½ inch cubes.
Prep the quinoa: In a medium saucepan, boil your water & add quinoa; let it simmer & cook as directed until all the liquid is absorbed.
To assemble salad: Combine the quinoa, squash and all other ingredients. Mix well until evenly combined. Store covered in the refrigerator for a few hours before serving.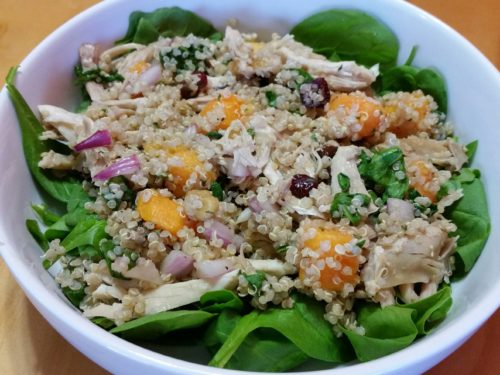 Salad with added chicken breast & additional fresh spinach "base" for more volume & nutrients 🙂
Nutrition Info:
1 serving (1/2 cup):
95 calories-18g carbs (2g fiber & 3.5g sugar) 3g fat-2.5g protein