Makes 1 delicious serving!
Ingredients:
1 scoop vanilla protein powder
1 cup milk of choice ( I use unsweetened almond milk)
1/4 cup berries, fresh or frozen (I used blueberries)
1 tbsp of sugar free, fat free Cheesecake pudding mix
2 tbsp nonfat greek yogurt
Optional: ice + Stevia sweetener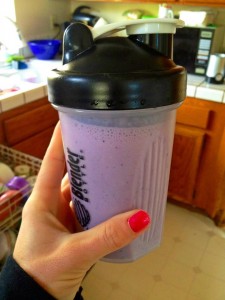 Combine all ingredients, blend…and enjoy! It tasted just like cheesecake…yum!