Easy and healthy comfort food! This is an ideal meal because it provides a good combination of lean protein from the turkey and healthy carbohydrates and fiber from the beans. This is a great alternative to soup because it is lower in sodium and is rich in protein! Feel free to add or substitute different beans or sauce for a different flavor!
Makes 10 (200g) servings
Ingredients:
1 package (20 oz)  extra lean ground turkey or chicken
1 can (15oz) of low sodium black beans, rinsed/drained
1 can (15oz) of low sodium white beans, rinsed/drained
1 can (15oz) of low sodium red kidney beans, rinsed/drained
1 can (15oz) low sodium diced tomatoes, not drained
1 can (8oz) tomato paste
2 cups no-salt added organiic/free range chicken stock/broth
1/2 yellow onion, diced
1/2 green bell pepper, diced
Spices: (2 tsp each) Onion powder, Garlic powder, Chili Powder, Cayenne Pepper, Cumin
Optional: mushrooms, green chilies, etc.
Crock Pot Version: Place your (raw) ground turkey/chicken meat into the crock pot and break up into small pieces. Add the rest of the ingredients…set on low…come back in a few hours, and you have dinner! Simple as that!
Stove Top: Cook up your ground turkey in a large skillet with the onions and spices until browned. Take a large pot and set on medium heat and add remaining ingredients. Once the turkey is done, add to the large pot and stir in with the sauce/bean mixture. Cook on medium/medium low; it should simmer but not boil. Depending on the consistency you like your chili, let it cook for approximately 15 minutes. I like mine thicker than soup, but still with a good amount of "sauce". Feel free to add water (start with a 1/4 cup) if the chili is too thick.
Serve with a sprinkle of shredded cheese and nonfat greek yogurt instead of sour cream! Enjoy!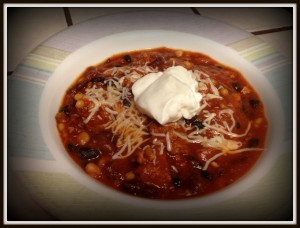 Makes 2000g total (approximately 10 cups)
Nutrition Facts (for 1 serving; approximately 200g)
170 calories-24g Carbs (7.5 fiber & 2g sugar) 1g Fat-20g Protein